We've been independently researching and testing products for over 120 years. If you buy through our links, we may earn a commission. Learn more about our review process.
How to Watch the 'Mission: Impossible' Movies in Order Before 'Dead Reckoning' Comes Out
Plus, where you can stream the action-packed films.
Is there anything Ethan Hunt (and, by extension, Tom Cruise) can't do? He's broken into Langley, infiltrated the Vatican, climbed the Burj Khalifa and ridden motorcycles in ways that defied gravity. The only question is ... which order did he do it all in again?
The next movie in the Mission: Impossible franchise, Mission: Impossible – Dead Reckoning Part One, currently has a release date of July 14, 2023. Mission: Impossible – Dead Reckoning Part Two won't be far behind, with a current release date of June 28, 2024. With those looming on the horizon, it might be time to re-watch the Mission: Impossible movies in order. But if you can't keep your Rogue Nations straight from your Ghost Protocols (and can't guess at the order based on the changing lengths of Tom Cruise's hair), bookmark this page, so you'll always have the Mission: Impossible order at the ready.
The good news is that the order of release is also the order of the events within the movie, so you don't have to untangle a thorny timeline: The release order is the chronological order.
The better news is that they're easy to find on streaming services. Most of the Mission: Impossible movies are available on Paramount+, and a good number of them are on Netflix as well. Of course, since streaming rights are always changing, this isn't true of all of them — some you'll have to rent on VOD.
Then, when you're done, you can start your rewatch of all the Indiana Jones, Jurassic Park, and Marvel MCU movies.

1
Mission: Impossible (1996)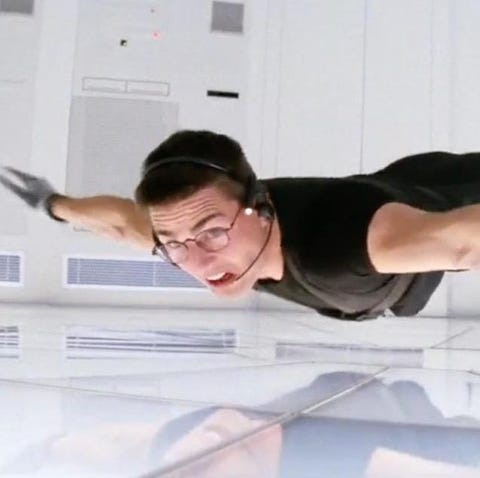 There's a mole at the Impossible Mission Force, and Ethan Hunt has to team up with other disavowed IMF agents to keep more of his co-workers from getting killed. This movie is known for its depiction of a break-in scene at the CIA headquarters in Langely — that's the one where Hunt has to dangle from the ceiling without touching the floor — which spawned a thousand homages.
2
Mission: Impossible II (2000)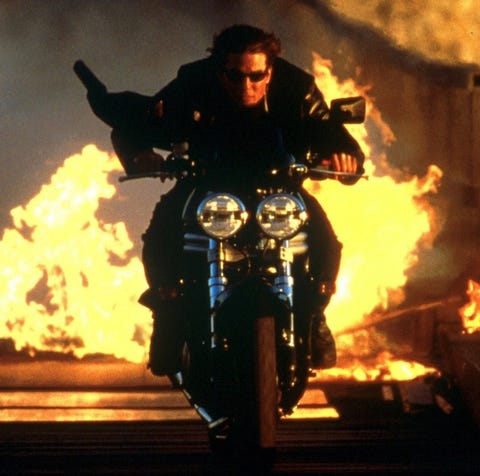 Superstar action director John Woo takes up where director Brian De Palma let off. This movie plays like a slick, action-filled gloss on the Alfred Hitchock film Notorious; Hunt has to recruit a professional thief, played by Thandie Newton, to help extract information from her ex-boyfriend, who has control of a biological weapon.
3
Mission: Impossible III (2006)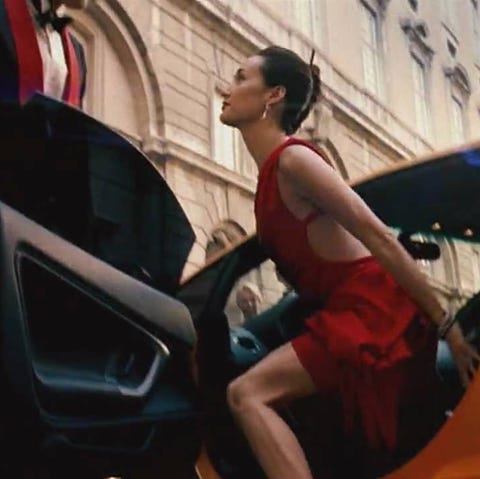 After the events of the second film, Hunt gets to settle down with a wife and just live out the rest of his years having a normal life. Well ... until an arms dealer, played by Philip Seymour Hoffman, starts going after Hunt's protégés and family, and Hunt has to stop at nothing to bring him down. This one is directed by J.J. Abrams before he jumped to the Star Trek/Star Wars franchises. It's also one of the few not available to stream on Paramount+ or Netflix at the moment.
4
Mission: Impossible – Ghost Protocol (2011)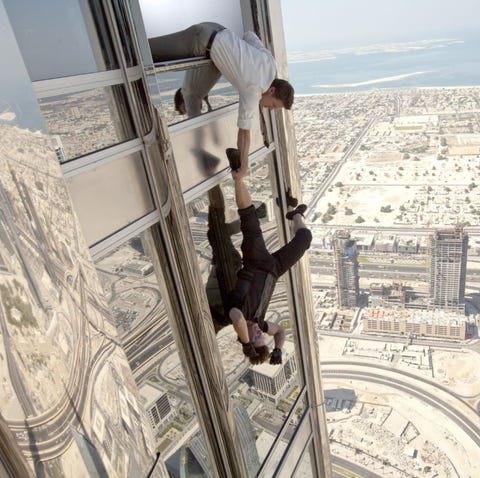 Brad Bird, director of The Incredibles, makes his live-action debut with this one — and basically treats Tom Cruise like an invulnerable Mr. Incredible, making him do everything from climbing the exterior of the Burj Kalifa to fist-fighting in an automated parking garage while cars are being flung at him. At least he has the help of Benji Dunn (Simon Pegg) and Luther Stickell (Ving Rhames), two returning characters who will become the core of his team from this movie on out.
5
Mission: Impossible – Rogue Nation (2015)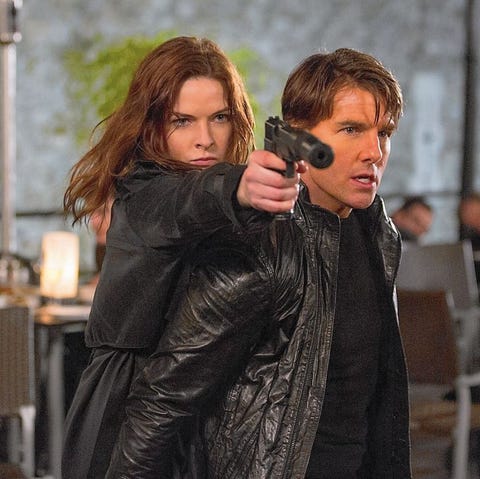 Jack Reacher director Christopher McQuarrie comes in for the fifth film in the franchise, and he's the one who will see it through from here to the end of Dead Reckoning Part Two. McQuarrie, like the rest of the series, is known for intricate, high-suspense sequences, like the one in this film that has Hunt and his team squaring off with former MI6 agent Ilsa Faust — quietly — behind-the-scenes at the Vienna opera.
6
Mission: Impossible – Fallout (2018)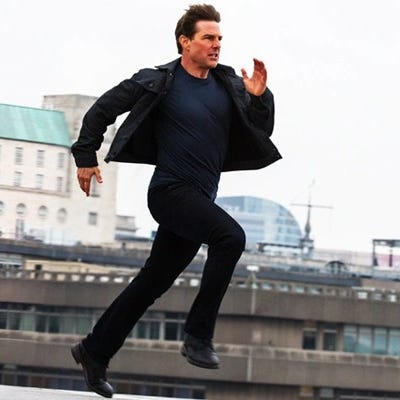 The most recent Mission: Impossible film sets the series up for a one-two punch of an ending. The bad guys that the IMF has been outfoxing for the past two films have become a terrorist organization known as the Apostles, and Hunt's team needs to recover the plutonium they've acquired.
7
Mission: Impossible – Dead Reckoning Part One (2023)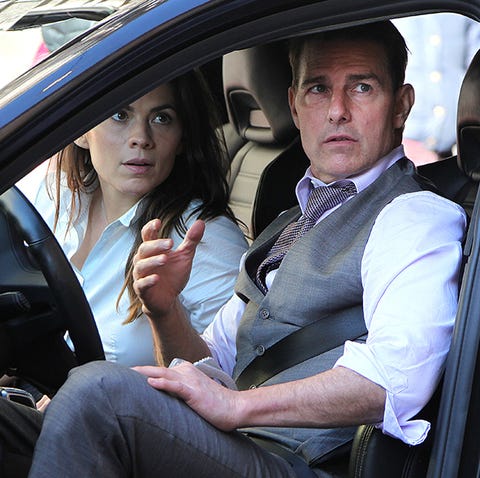 Future Publishing
Getty Images
Who knows what trouble Hunt and the IMF will get into next? We do know that Hayley Atwell, a.k.a Agent Carter, is joining the cast for the next film. It'll come out July 14, 2023, but there's already a cryptic teaser trailer that'll have us guessing as to what's going to happen next. (Spoiler alert: more stunts!)
8
Mission: Impossible – Dead Reckoning Part Two (2024)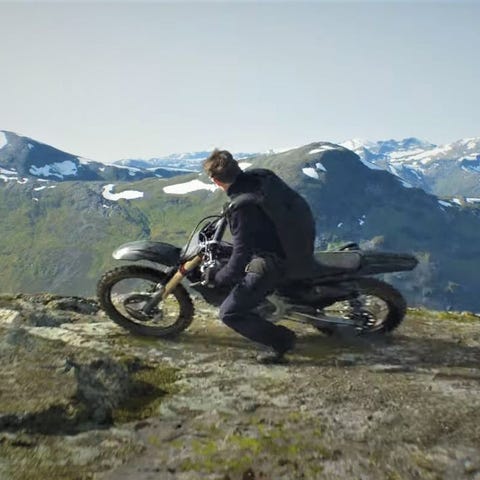 And then, after Dead Reckoning Part Two, we'll say goodbye to Ethan Hunt forever. This one is set for June 28, 2024. Will Hunt finally get to settle down with a family? Will a bad guy actually get the better of him? Will he drive his motorcycle off into the sunset, or off a cliff without a soft place to land? Only time will tell.