We've been independently researching and testing products for over 120 years. If you buy through our links, we may earn a commission. Learn more about our review process.
11 Best Dip Powder Nail Kits to Get a Salon-Quality Manicure at Home
Shop the top-reviewed nail dipping starter sets for a flawless DIY finish.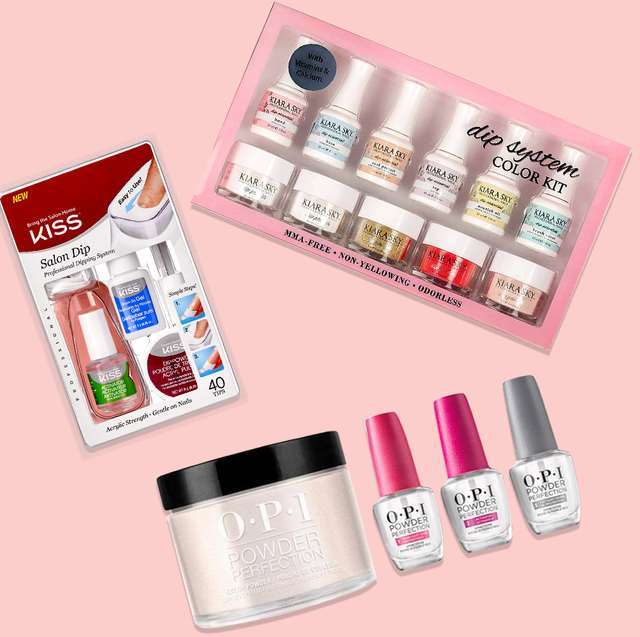 We updated this article in March 2022 to add more information about each featured product, based on expert insights from the Good Housekeeping Institute Beauty Lab and online reviews of top-rated products. Many of our original picks remain the same, but our picks for best overall kit and best luxury kit are new.
---
At-home manicures can save you a lot of money, but even the best-quality nail polish inevitably chips within days of application. That's why nail care brands have started to sell at-home gel nail kits in recent years, which promise long-lasting, salon-quality hard gel polish manicures for a fraction of the price. But now there's a new-ish at-home manicure method that many DIY manicurists are saying is even better than gel: dip powder nail kits.

What is a dip powder manicure?
Also known as SNS nails, dip powder nails are known for being long-lasting and don't use UV light to harden, unlike gel nails. The color comes from dipping your nails into a finely-milled, pigmented powder before bonding with adhesive, rather than painting on streaks of hard liquid gel. The result is a long-lasting, evenly coated manicure, usually only achieved by professionals — until now.
Ready to try a DIY dip powder manicure? We've rounded up the best dip powder nail kits you can buy for an at-home salon-quality manicure, based on GH Beauty Lab and editor favorites, as well as best-sellers with lots of glowing reviews online:

Best Color-Changing Dip Powder Nail Kit
Seren-DIP-ity Mood Changing Dip Powder Starter Kit
Best Dip Powder Nail Color Mixing Kit
Color Dip Nail Color By Me Mixing Kit
How do you use a dip powder nail kit at home?

You should always closely follow the instructions that come with the specific kit you buy, but in general this is the step-by-step process for applying dip powder to your nails:
Prep the nail by pushing cuticles back, then filing into your desired nail shape.
Use a nail primer to remove oil and dirt from the nail bed.
Apply the base coat once nails are clean and dry.
Dip into powder color and use a duster brush to remove excess.
Brush on another coat of base and dip again. Double dunking ensures full coverage and a stronger finish for a chip-resistant manicure.
Finally, paint nails with an activator, which bonds the color powder into a lacquered gloss.
Apply a glossy top coat for extra strength.
Which is better, dip powder nails or gel nails?

While both dip powder and gel manicures boast longevity (think two to three weeks for DIY efforts, but potentially up to a month), dip powder manicures don't require UV light-curing lamps. That means you can cut your mani time in half, won't have a bulky nail lamp taking up space in your home and it's a bonus if you're sensitive to UV exposure. Plus, they can be easier to remove than certain gels; you just need a light filing and a soak in acetone (no drills!).
Are dip powder kits bad for your nails?

If you are worried about your nail health, don't fret: Dip powder itself won't ruin your nails, but scraping and picking the manicure off will. Chipping away at your dip powder nails with a nail stick removes layers of your natural bed, weakening your nails.
Instead, to remove dip powder nails, stick to the same removal process as gel: Dip a cotton pad in acetone and allow it to sit on your nails for 10 to 15 minutes before wiping the color away. If your manicure doesn't budge after 15 minutes, let your nails soak in polish remover a bit longer. Don't forget to rub a good cuticle cream into your nail bed when you're all done to keep your nails healthy and strong.
Why trust Good Housekeeping?

Beauty writer Dori Price has over 15 years of experience researching and writing nail stories, combining her knowledge with the expertise of top industry professionals including nail artists, technicians and dermatologists. She is an expert in all nail product categories, including nail color, nail treatments, nail art, professional services and more.
Shanon Maglente also contributed to this article; she has over three years of experience writing and editing product review content, including at Good Housekeeping, where she regularly covered beauty products, including nail colors, tools and care.