We may earn commission from links on this page, but we only recommend products we back. Why trust us?
6 Best Vacuums for Pet Hair of 2022, According to Tests By Cleaning Pros
Finally de-fuzz your carpet, hardwood, tile and more.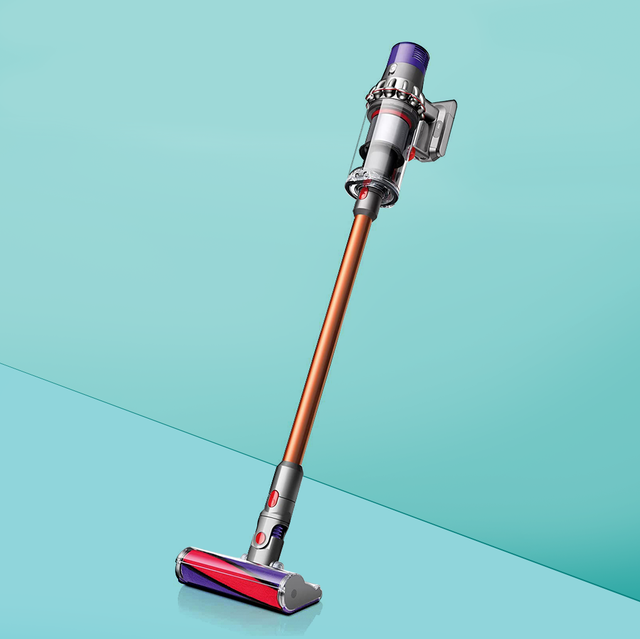 This story was updated in May 2022 to ensure all existing vacuum recommendations vetted and tested by the Good Housekeeping Institute Home Appliances and Cleaning Lab were in stock, available and included updated prices.
---
You love everything about your pet, but one thing that isn't so great: Finding his fur all over your house. Removing pet hair is one of the toughest challenges vacuum cleaners face. This is especially true when static electricity makes dog hair and cat hair cling so tightly to fabrics, like carpeting and upholstery, that no amount of brushing or suction power seem to pick it up.
In the Good Housekeeping Institute Cleaning Lab, we test all kinds of vacuums to find the best ones, including handheld vacuums, stick vacuums, canister vacuums, HEPA vacuums, robot vacuums and much more. We put our vacuums through rigorous testing that follows ASTM industry standard test methods: We set out a standardized gamut of messes on a range of flooring from hardwood to deep pile carpet to vinyl to find the best vacuums that will actually get the job done.
Our Top Picks
Best Overall Vacuum For Pet Hair
Pet Hair Eraser Turbo Plus Lightweight Vacuum
Sealed to trap allergens
Hands-free dust cup emptying
7 ft. hose to clean hard to reach spots
For all your pet hair clean-up needs, look no further than this upright vacuum from Bissell. This vacuum's dust cup has an easy to empty, hands-free design, with a hair spooling system inside the canister that contains the mess and a tangle-free brush roll that keeps pet hair from clogging the bristles. Included attachments like an extension wand with a 7 foot hose, LED Lighted Crevice Tool, 2-in-1 Pet Dusting Brush and Pet TurboEraser Tool make this vacuum a do-it-all option for a pet home.
• Weight: 13.75 lbs.
• Cord or cordless: Cord
• Cord length: 30 feet
• Run time: N/A
• Bag or bagless: Bagless
• Dirt cup capacity: 0.75 L
• Filter: SmartSeal Allergen System
Best Value Vacuum for Pet Hair
Kenmore Pet Friendly Upright Vacuum
Air-powered hand tool with a rotating brush
Certified by The Asthma and Allergy Foundation
Five-position adjustable height nozzle
Pet hair is an annoyance for most pet owners, but if you or someone in your family happens to be allergic to pet hair, it can also be a serious health issue. This upright Kenmore has all the extras to keep pet hair where it belongs — inside the vacuum. Certified by The Asthma and Allergy Foundation (AAFA), this Kenmore has a HEPA filter and passed AAFA tests for low emissions both while vacuuming and when changing the bag and while we haven't tested this specific model, Kenmore vacuums do well in our performance tests, we know and trust the rigid standards of the AAFA, and are impressed with their certification criteria.
This vacuum maintains its performance even as the bag fills and clogs with dirt and it's loaded with features like a powerful motor, a five-position adjustable height nozzle for easier pushing across all carpet styles and an air-powered hand tool with a rotating brush to more easily remove stubborn pet hair from upholstery, bedding and stairs.
• Weight: 19 lbs.
• Cord or cordless: Cord
• Cord length: 30 feet
• Run time: N/A
• Bag or bagless: Bag
• Dirt cup capacity: 5.1L
• Filter: HEPA
Best Vacuum for Pet Hair and Hardwood Floors
Classic C1 Cat & Dog Canister Vacuum Cleaner
Earned Good Housekeeping Seal
Air filter helps neutralize pet odors
Comes with a flexible handheld mini turbo brush
Miele vacuums always top our Lab tests for performance and this model is designed for cleaning up after cats and dogs. It's especially great if you're worried about pesky smells since the powerful Good Housekeeping Seal star features an Active AirClean Filter to help neutralize any lingering pet odors.
You can choose from 6 suction power settings specific to the surface and the Electro Plus Floorhead has five-level height adjustments making it ideal for medium to high pile carpet. It also comes with a super-useful Flexible Handheld Mini Turbo Brush attachment for cleaning upholstery, stairs and other tight spaces.
• Weight: 16.1 lbs.
• Cord or cordless: Cord
• Cord length: 29.5 feet
• Run time: N/A
• Bag or bagless: Bag
• Dirt cup capacity: 4.5L
• Filter: Active AirClean Filter

Best Cordless Vacuum for Pet Hair
Cyclone V10 Absolute Lightweight Vacuum
Lightweight
Perfect score for picking up pet hair in our test
Cordless
Dyson's super-lightweight model received perfect scores in our pet hair pick-up tests. It comes with a mini motorized tool to help remove pet hair and dirt from carpet and upholstery. And since it's cordless, you'll never have to worry about you (or your pets!) tripping over a power cord!
The cordless stick vacuum was great at picking up pet hair on carpets and floors and it converts into a hand vac allowing you to easily tackle furniture, too. When you're done vacuuming it can be conveniently stored on the wall-mounted drop-in dock so you don't have to worry about it falling over.
•
Weight:
5.9 lbs.
•
Cord or cordless:
Cordless
•
Run time:
Up to 60 minutes
•
Bag or bagless:
Bagless
•
Dirt cup capacity:
.2 gallons
•
Filter:
Whole-machine filtration
Best Handheld Vacuum for Pet Hair
Pet Hair Eraser Corded Handheld Vacuum
Compact
Lightweight
Rubber nozzle to help lift stuck-on hair
Not for narrow, hard-to-reach spots
Don't want to buy a whole new vacuum? This small-but-mighty Bissell (only five pounds!) is perfect for quick pet-hair fixes. We like that it's designed with a rubber nozzle to help lift stuck-on hair and that it's easy to maneuver around chair arms and stair treads to get every last piece.
With a 16-foot power cord, you'll be able to navigate enough to clean up small messes and never have to worry about running out of power. It also comes with an attachment for hard floors so it can nab pet hair or dry messes like kitty litter on surfaces such as tile.
• Weight: 5 lbs.
• Cord or cordless: Cord
• Cord length: 16 feet
• Run time: N/A
• Bag or bagless: Bagless
• Dirt cup capacity: .78L
• Filter: Multi-layer filtration
Best Robot Vacuum for Pet Hair
RoboVac 15C Max Robot Vacuum
Removes pet hair from carpet with ease
Slim design gets under low furniture
Random cleaning pattern
Filters not washable
Most robot vacuums are not ideal for picking up pet hair, but this robot vacuum easily removed pet hair from carpet and with its slim profile just under 3 inches, it can glide beneath beds, low furniture and hard-to-reach places to nab stray pet hair. It's BoostIQ Technology also automatically increases suction power when it detects extra cleaning is needed and advanced sensors keep it from tumbling off ledges and stairs or running into furniture.
In our tests, it was one of the quietest robot vacuums and ran for almost two hours on a single charge and automatically returned to its charging base when the battery ran low. It was also a top performer thanks to its two side brushes and roller brush action all at a budget-friendly price. While this doesn't have a floor mapping feature it does have a remote control for spot cleaning or cleaning around floor edges.
• Weight: 6 lbs.
• Cord or cordless: Cordless (Base is corded)
• Run time: Up to 100 minutes
• Bag or bagless: Bagless
• Dirt cup capacity: .6L
• Filter: Unibody Filter
How we chose the best vacuums for pet hair

In the Lab, each vacuum model is tested exactly the same way according to ASTM standards, and we also get consumer feedback on each vacuum's ease of use, including maneuverability, changing the bag (or removing the dust cup) and controls.
Perhaps most importantly, every vacuum we evaluate gets tested on "pet hair" — a.k.a. fine rayon fibers that we apply to test carpeting in a uniform way. Our picks are the vacuums that performed best on pet hair in Labs tests, plus ones with features perfectly-suited to tackle stubborn fur.
What to look for when shopping for the best pet hair vacuums

To help any vacuum do a better job at removing pet hair, our cleaning pros recommend giving fur-covered carpets and couches a spritz of an anti-static spray, like Static Guard, before vacuuming to help strands come up easier.
Then, there are a few features to look for in a vacuum specifically for pet hair:
✔️Dust cups or bags are essential considerations for the inevitable and frequent dumping that happens as you vacuum up after your pet. Make sure that the dust cup is sizable and easy to empty, or that the bag is easily disposed of for the easiest post-cleaning cleanup.
✔️Filters not only help the dust from recirculating back into the air but can actually help neutralize pet smells in your home. And if allergies are a concern, HEPA filters can help trap 99.97% of dust, pollen, mold, bacteria and any airborne particles with a minimum size of 0.3 microns.
✔️Corded vs. cordless models should be chosen between depending on your usage: Do you plan to tote it around the house and outside, or perhaps you're more likely to use it for long stretches of time? With a corded vacuum, you'll never have to worry about running out of battery power, however, cordless vacuums are easy to take from room to room or use in a car.
✔️Size and weight are also important when it comes to portability. If you're frequently vacuuming small amounts of pet hair, you may want a handheld or stick vacuum that's compact and lightweight to quickly suction up tiny amounts of pet hair. However, if you find yourself vacuuming large areas often to pick up pet hair you'll want a canister or upright vacuum.
✔️Pet hair-nabbing features are crucial, like rubber trim and raised "fingers" on floor nozzles or attachments that help zap static and break the bonds so fur comes up more easily. Tangle-free brush rolls also put an end to clipping long strands of hair (from pets or humans!) that get twisted around the brush.
Why trust Good Housekeeping?

Carolyn Forte, the Good Housekeeping Institute's Home Care and Cleaning Lab Executive Director, has a B.A. in Family & Consumer Sciences from Queens College, City University of New York, and is a consumer products expert. She has been testing, speaking and writing about appliances, textiles, cleaning products and more at Good Housekeeping for more than 40 years as well as consulting with the appliance industry, especially washing machine manufacturers, about appliance testing protocols and consumer laundry habits.
This content is created and maintained by a third party, and imported onto this page to help users provide their email addresses. You may be able to find more information about this and similar content at piano.io